Outreach working group
Outreach

Outreach working group
The Outreach working group is deputed to the organisation and scheduling of Institute seminars, also interacting and integrating with external scientific seminars. The GdL menages also the press and social media comunication concerning the Institute's activities, the partecipation to scientific initiatives and local or national technological transfer activities that require the exposition of the Institute's reserach activity.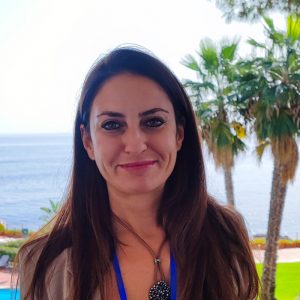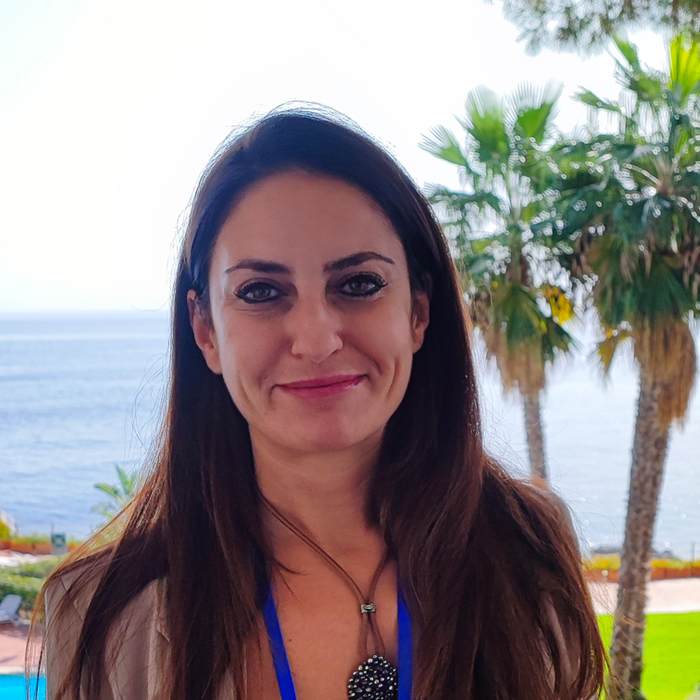 Daniela Castiglia
Researcher
Biography Skills Publications Contacts Biography
Dr Daniela Castiglia graduated in Biology cum laude at the University of Naples, Federico II in 2008. Dr Castiglia earned a PhD in Applied Biology at the same university in 2012 discussing a thesis entitled "Cytosolic Glucose-6P dehydrogenase in barley: Overexpression, characterization and regulation by biotic stress and sugar sensing", working for the Plant Physiology group (Principal Investigator, Prof. Sergio Esposito). The research activity focused on the molecular and biochemical characterization of proteins involved in the primary metabolism of plants and in defense mechanisms counteracting biotic and abiotic stresses. During her PhD programme, Dr. Castiglia was a guest at the Plant Biology Institute of the University of Zurich, hosted by Prof. Beat Keller. From April 2013, Dr Castiglia was postdoctoral researcher at the CNR-IBBR of Portici, where her research activity focused on biotechnological applications of recombinant proteins expressed in plants. These activities were mainly focused on industrial, energetic and bioconversion processes (Principal Investigator, Dr. Nunzia Scotti). In July 2020, Dr Castiglia started work as a Researcher at the National Research Council of Italy, Institute of biomolecular chemistry, (CNR-ICB), in Pozzuoli. She is currently working on biotechnological applications of diatoms.
Skills Microalgae Diatoms Chemicalbiology Chloroplast transformation Recombinant proteins Publications
1_Cardi M*, Castiglia D*, Ferrara M*, Guerriero G*, Chiurazzi M, Esposito S. (2015) The effects of salt stress cause a diversion of basal metabolism in barley roots: possible different roles for glucose-6-phosphate dehydrogenase isoforms. *: joint first authors. Plant Physiology and Biochemistry. 86: 44-54 DOI: 10.1016/j.plaphy.2014.11.001
2_Basile A, Sorbo S, Cardi M, Lentini M, Castiglia D, Cianciullo P, Conte B, Loppi S, Esposito S. (2015). Effects of heavy metals pollution on ultrastructure and HSP70 induction, in Lemna minor L. exposed along Sarno River (Italy). Ecotoxicology and Environmental Safety. 114: 93-101 DOI: 10.1016/j.ecoenv.2015.01.009
3_Castiglia D, Sannino L, Marcolongo L, Ionata E, Tamburino R, De Stradis A, Cobucci-Ponzano B, Moracci M, La Cara F, Scotti N. (2016) High-level expression of thermostable cellulolytic enzymes in tobacco transplastomic plants and their use in hydrolysis of an industrially pretreated Arundo donax L. biomass. Biotechnology for Biofuels, 9(1), 154. DOI:10.1186/s13068-016-0569-z 4_Castiglia D, Leone S, Tamburino R, Sannino L, Fonderico J, Melchiorre C, Carpentieri A, Grillo S, Picone D, Scotti N (2018) High-level production of single chain monellin mutants with enhanced sweetness and stability in tobacco chloroplasts. Planta 248, 465–476. DOI:
https://doi.org/10.1007/s00425-018-2920-z
5_Castiglia D, Landi S, Esposito S. (2021) Advanced Applications for Protein and Compounds from Microalgae. Plants (Basel) 10(8):1686. DOI:
https://doi.org/10.3390/plants10081686
Contacts

   MAIN RESEARCH SITE, POZZUOLI

   d.castiglia@icb.cnr.it

  (+39) 081 867 5182
ORCID:
https://orcid.org/0000-0002-9794-8644
MDPI
Researchgate
View curriculum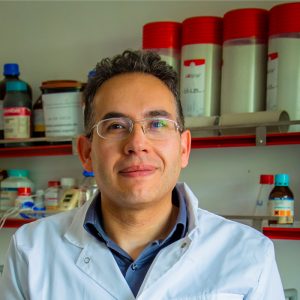 Giuseppe Granata
Researcher
Biography Skills Publications Contacts Biography
EDUCATIONAL QUALIFICATIONS
Ph.D. in Chemical Sciences on 04/03/2005 at the University of Catania.
Degree in Chemistry (specialization in Biomolecular Chemistry) on 07/12/2000 at the University of Catania.
• May 2014 – currently Researcher at C.N.R. – Institute of Biomolecular Chemistry – branch of Catania (Permanent Researcher since 30 November 2018).
His research is mainly focused on the field of Organic and Bioorganic Chemistry and Supramolecular Chemistry:
• Design and preparation of calixarene derivatives, their characterization and molecular properties, study of their assembling and biomolecular recognition capabilities.
• Design and preparation of biocompatible and amphiphilic constructs based on calixarene macrocycles, development of physico-chemical protocols for the aggregation of these constructs in nanostructured systems (such as drug nanocontainers, nanocarriers, etc.) and characterization of the nanosystems (size, Z potential, drug loading, etc.).
And in the Agri-Food sector:
• Realization and characterization of nanostructured systems (biocompatible and biodegradable nanoparticles) containing active ingredients of nutritional and biological interest.
• Analytical studies, such as the determination of antioxidant activity, total amount of polyphenols, and individual components.
Skills Supramolecular Chemistry
Calixarene derivatives
Bioorganic Chemistry
Organic Synthesis
Nano-aggregates
Nanocarriers
Drug Loading
Biocompatible and eco-friendly Nanocapsules
Antioxidant Activity
Food Chemistry Publications
G. Granata, S. Petralia, G. Forte, S. Conoci, G. M. L. Consoli. "Injectable supramolecular nanohydrogel from a micellar self-assembling calix[4]arene derivative and curcumin for a sustained drug release". Materials Science and Engineering C, 2020, 111, 110842.

G. Granata, S. Stracquadanio, M. Leonardi, E. Napoli, G. M. L. Consoli, V. Cafiso, S. Stefani, C. Geraci "Essential oils encapsulated in polymer–based nanocapsules as potential candidates for application in food preservation". Food Chemistry 2018, 269, 286–292.

G. Granata, G. M. L. Consoli, R. Lo Nigro, C. Geraci. "Hydroxycinnamic acids loaded in lipid-core nanocapsules". Food Chemistry 2018, 245, 551–556.

G. Granata, I. Paterniti, C. Geraci, F. Cunsolo, E. Esposito, M. Cordaro, A. R. Blanco, S. Cuzzocrea, G. M. L. Consoli. "Potential eye drop based on a calix[4]arene nanoassembly for curcumin delivery: enhanced drug solubility, stability, and antiinflammatory effect". Mol. Pharmaceutics 2017, 14, 1610−1622.

G. M. L. Consoli, G. Granata, G. Fragassi, M. Grossi, M. Sallese, C. Geraci. "Design and synthesis of a multivalent fluorescent folate-calix[4]arene conjugate: cancer cell penetration and intracellular localization". Org. Biomol. Chem. 2015, 13, 3298–3307.
Contacts

   RESEARCH SITE OF CATANIA

   giuseppe.granata@icb.cnr.it

   PEC: giuseppe.granata-8271@pec.it

  (+39) 0957338325
Orcid ID:
0000-0001-9428-3985 WoS
Researcher ID:
C-6093-2015
Scopus
Webofscience
Scholar
View curriculum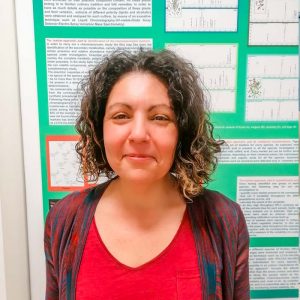 Laura Siracusa
Researcher
Biography Skills Publications Contacts Biography
Laura Siracusa obtains her PhD in Organic Chemistry in 1999 defending a thesis on "Phosphorous containing organic compounds with potential antitumor activity". In 2000-2001, she is a post-doc research assistant at Trinity College Dublin (TCD, Ireland) then at the Department of Chemistry of the University of Bristol (UK), working on cholic acid-based supramolecular chemistry under the supervision of Prof. A.P. Davis . Back to Italy and after a couple of years as research assistant at ICB-CNR and University of Catania, she joins the ICB-CNR "Natural Products and Food Chemistry" team as tenured researcher in January 2008. She is adjunct Professor of Phytochemistry (Department of Drug Science) and Food Chemistry (Department of Agriculture, Food and Environment) at the University of Catania. From year 2020, she is qualified as Associate Professor in the scientific area CHIM/10 (Food Chemistry).
Skills Metabolic profiling
Analysis of complex matrices
Metabolic response
Targeted and untargeted multi instrumental food analysis Publications
Venera Russo, Alberto Continella, Carmelo Drago, Alessandra Gentile, Stefano La Malfa, Claudio Giovanna Leotta, Luana Pulvirenti, Giuseppe Ruberto, Giovanni Mario Pitari, Laura Siracusa. Secondary metabolic profiles and anticancer actions from fruit extracts of immature pomegranates. PLoSONE 2021, 16, e0255831. 
DOI: 10.1371/journal.pone.0255831
Cristina Patanè, Salvatore L. Cosentino, Silvio Calcagno, Luana Pulvirenti, Laura Siracusa. How do sowing time and plant density affects the pigments safflomins and carthamin in the florets of safflower? Industrial Crops and Products 2020, 148, 112313.
DOI: 10.1016/j.indcrop.2020.112313
Laura Siracusa, Cristina Patané, Valeria Rizzo, Salvatore Luciano Cosentino, Giuseppe Ruberto. Targeted secondary metabolic and physico-chemical traits analysis to assess genetic variability within a germplasm collection of "long storage" tomatoes. Food Chemistry 2018, 244, 275-283.
DOI: 10.1016/j.foodchem.2017.10.043
C. Pannitteri, A. Continella, L. Lo Cicero, A. Gentile, S. La Malfa, E. Sperlinga, E.M. Napoli, T. Strano, G. Ruberto, L. Siracusa. Influence of postharvest treatments on qualitative and chemical parameters of Tarocco blood orange fruits to be used for fresh chilled juice. Food Chemistry 2017, 230,441-447.
DOI: 10.1016/j.foodchem.2017.03.041
Laura Siracusa, Fabio Gresta, Giovanni Avola, Emidio Albertini, Lorenzo Raggi, Gianpiero Marconi, Giuseppe Ruberto. Agronomic, chemical and genetic variability of saffron of different origin by LC-UV-VIS-DAD and AFLP analyses. Genetic Resources Crop Evolution 2013, 60, 711-721.
DOI: 10.1007/s10722-012-9868-9
Contacts

  RESEARCH SITE OF CATANIA

   laura.siracusa@icb.cnr.it

   PEC: laurasiracusa@pec.it

   (+39) 095 7338348
ORCID ID:
0000-0003-3771-3138
Di3a UNICT
Dsf UNICT
Researchgate
View curriculum
Macrothink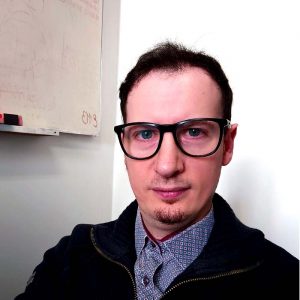 Stefano Tartaggia
Researcher
Biography Skills Publications Contacts Biography
Dr. Stefano Tartaggia received his M.Sc. degree in Chemistry and Environmental Compatibility in 2007 and his PhD in Chemical Sciences in 2011 at the Ca 'Foscari University of Venice. During his doctoral studies, he performed part of his research work at the University of Kaiserslautern in Germany. From 2011 to 2015, he worked as postdoctoral researcher at the Ca 'Foscari University of Venice to develop advanced synthetic methodologies for the preparation of active pharmaceutical ingredients in collaboration with industry partners. From 2015 to 2020, he was employed at the National Cancer Institute CRO Aviano, where he designed new biosensing platforms for the therapeutic monitoring of anticancer drugs and circulating biomarkers aimed at improving the efficacy of anticancer therapies. From 2020 to 2022, he worked within important food and pharmaceutical corporates, covering the roles of chemical analyst and R&D scientist to develop analytical methods and innovative industrial processes for the manufacturing of generic drugs. In 2022, he joined the Institute of Biomolecular Chemistry of the National Research Council in the Padua site, where he currently work on the synthesis and characterization of functionalized peptides.
Skills Organic synthesis Active pharmaceutical ingredients Surface plasmon resonance Analytical method development Aptamers Bioconjugation Publications Tartaggia, S.; Meneghello, A.; Bellotto, O.; Poetto, A.S.; Zanchetta, M.; Posocco, B.; Bunka, D.; Polo, F.; Toffoli, G. "An SPR Investigation Into The Therapeutic Drug Monitoring Of The Anticancer Drug Imatinib With Selective Aptamers Operating In Human Plasma" Analyst 2021, vol. 146, pp. 1714-1724.
https://doi.org/10.1039/D0AN01860K
Dinel, M. P.; Tartaggia, S.; Wallace, G. Q.; Boudreau, D.; Masson, J. F.; Polo, F. "The Fundamentals Of Real-Time Surface Plasmon Resonance/Electrogenerated Chemiluminescence" Angewandte Chemie International Edition 2019, vol. 58, pp. 18202-18206.
https://doi.org/10.1002/anie.201909806
Tartaggia, S.; Alvau, M. D.; Meneghello, A.; Casetta, B.; Polo, F.; Toffoli, G. "Practical Fluorimetric Assay for the Detection of Anticancer Drug SN-38 In Human Plasma", Journal Of Pharmaceutical And Biomedical Analysis 2018, vol. 159, pp. 73-81.
https://doi.org/10.1016/j.jpba.2018.06.032
Tartaggia, S.; Fogal, S.; Motterle, R.; Ferrari, C.; Pontini, M.; Aureli, R.; De Lucchi, O. "Chemoenzymatic Synthesis of d-keto-b-hydroxy Esters as Useful Intermediates for Preparing Statins", European Journal Of Organic Chemistry 2016, pp. 3162-3165.
http://onlinelibrary.wiley.com/doi/10.1002/ejoc.201600268/full
Tartaggia, S.; Ferrari, C.; Pontini, M.; De Lucchi, O. "A Practical Synthesis of Rosuvastatin and Other Statin Intermediates", European Journal Of Organic Chemistry 2015, pp. 4102-4107.
http://doi.wiley.com/10.1002/ejoc.201500356
Contacts

  RESEARCH SITE OF PADOVA

   stefano.tartaggia@cnr.it

  (+39) 0498275246
ORCID:
0000-0003-4835-058X
View curriculum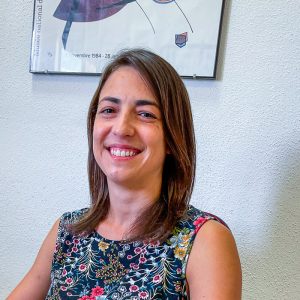 Biography Skills Publications Contacts Biography
Valeria Ugone was born on December 26th, 1988.
She graduated in Chemical Sciences cum laude at the University of Sassari in 2013.
She got the Ph.D. degree (Doctor Europaeus) in Chemical Sciences and Technologies at the University of Cagliari in 2017 with a thesis entitled "Synthesis, characterization and biospeciation of vanadium compounds with potential pharmacological activity".
In 2016 she did an internship at the Cardiff University School of Chemistry working on the study of the interaction between vanadium compounds and proteins by mass spectrometry techniques.
From 2017 to 2019 she was a collaborator at the Department of Chemistry and Pharmacy, University of Sassari, within the project "Diabetes and Sardinia: a chemical approach using metal complexes".
In 2018 she worked as postdoctoral researcher at the Instituto de Investigaciones en Materiales, Universidad Nacional Autónoma de México (CDMX, Mexico), participating in the project "Soft functional materials for tissue engineering and controlled drug release".
From July 2020 she is a researcher at the Institute of Biomolecular Chemistry (ICB-CNR) in the section of Sassari. Her research activity concerns the understanding of biospeciation of potential metallodrugs through the combined application of experimental (ESR, ESI-MS, UV-Vis) and computational (DFT) techniques.
Skills Bioinorganic chemistry
Metal compounds
Electron Spin Resonance
Mass spectrometry
DFT calculations Publications
V. Ugone, D. Sanna, S. Ruggiu, G. Sciortino, E. Garribba, Covalent and non-covalent binding in vanadium–protein adducts, (2021) Inorganic Chemistry Frontiers, 8 (5), 1189 – 1196. DOI: 10.1039/d0qi01308k.
V. Ugone, D. Sanna, G. Sciortino, D.C. Crans, E. Garribba, ESI-MS Study of the Interaction of Potential
Oxidovanadium(IV) Drugs and Amavadin with Model Proteins, (2020) Inorganic Chemistry, 59, 9739-9755. DOI: 10.1021/acs.inorgchem.0c00969.
V. Ugone, D. Sanna, G. Sciortino, J.-D. Maréchal, E. Garribba, Interaction of Vanadium(IV) Species with Ubiquitin: a Combined Instrumental and Computational Approach, (2019) Inorganic Chemistry, 58, 8064-8078. DOI: 10.1021/acs.inorgchem.9b00807.
D. Sanna, V. Ugone, G. Micera, T. Pivetta, E. Valletta, E. Garribba, Speciation of the Potential Antitumor Agent Vanadocene Dichloride in the Blood Plasma and Model Systems, (2015) Inorganic Chemistry, 54 (17), 8237-8250. DOI: 10.1021/acs.inorgchem.5b01277.
D. Sanna, V. Ugone, G. Micera, E. Garribba, Temperature and solvent structure dependence of VO2+ complexes of pyridine-N-oxide derivatives and their interaction with human serum transferrin, (2012) Dalton Transactions, 41 (24), 7304-7318. DOI: 10.1039/c2dt12503j.
Contacts

   RESEARCH SITE OF SASSARI

   valeria.ugone@cnr.it

  PEC: valeria.ugone@pec.it

   (+39) 0792841240
Orcid ID:
0000-0002-2830-3869
WoS Researcher ID:
AAT-2667-2020
Scopus Author ID:
55249677100
Researchgate
Publons
View curriculum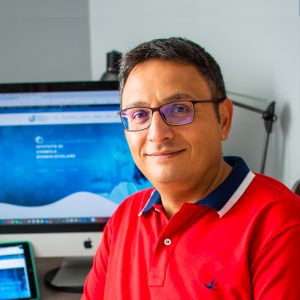 Antonio Greco
Technical assistant
Biography Skills Publications Contact Biography
Antonio Greco obtained a scientific high school diploma in Electronics and Telecommunications in 1995 followed by the professional qualification of "Web Developer" in 2007.
Since 2012 he has been an employee of the CNR, working at the Institute of Biomolecular Chemistry, branch of Catania, where he has mainly been involeved to the design and graphical creation of brochures, posters, catalogs, leaflets, posters, roll-ups. Antonio has also been the referent in the structural and graphical design of web pages to support conferences, courses, research projects, publications and magazines acitivities whose aim to give visibility of the institute itself as well as the dissemination and advertising of events and activities developed among the four Institute's branch. He has been responsible for the design, implementation and continuous updating of the website dedicated to the ICB branch of Catania and He is currently the referent in the ongoing renovation project of the single site of the Institute www.icb.cnr.it.
Moreover, at Catania's brach, he lends support to the administrative activity by dealing with the management of the protocol activity; the administrative procedures for the disposal of special waste, the preparation of their related internal management regulations, the updating of the "loading and unloading" registers and the predisposition of its annual MUD report. Finally, he is the person in charge for the inventory as well as a treasurer of the financial fund of Catania's branch; and he is also an instructor point for MEPA orders and technical assistant to the RUP in the preparation of purchases for the institute.
Skills Graphic design
Webmaster
Protocol
Website
Economic fund
Inventory
Disposal special waste Publications Contact

   RESEARCH SITE OF CATANIA

   antonio.greco@icb.cnr.it – antonio.greco@cnr.it

   (+39) 095 7338351
Orcid:
0000-0002-6524-4327
ICB
View curriculum