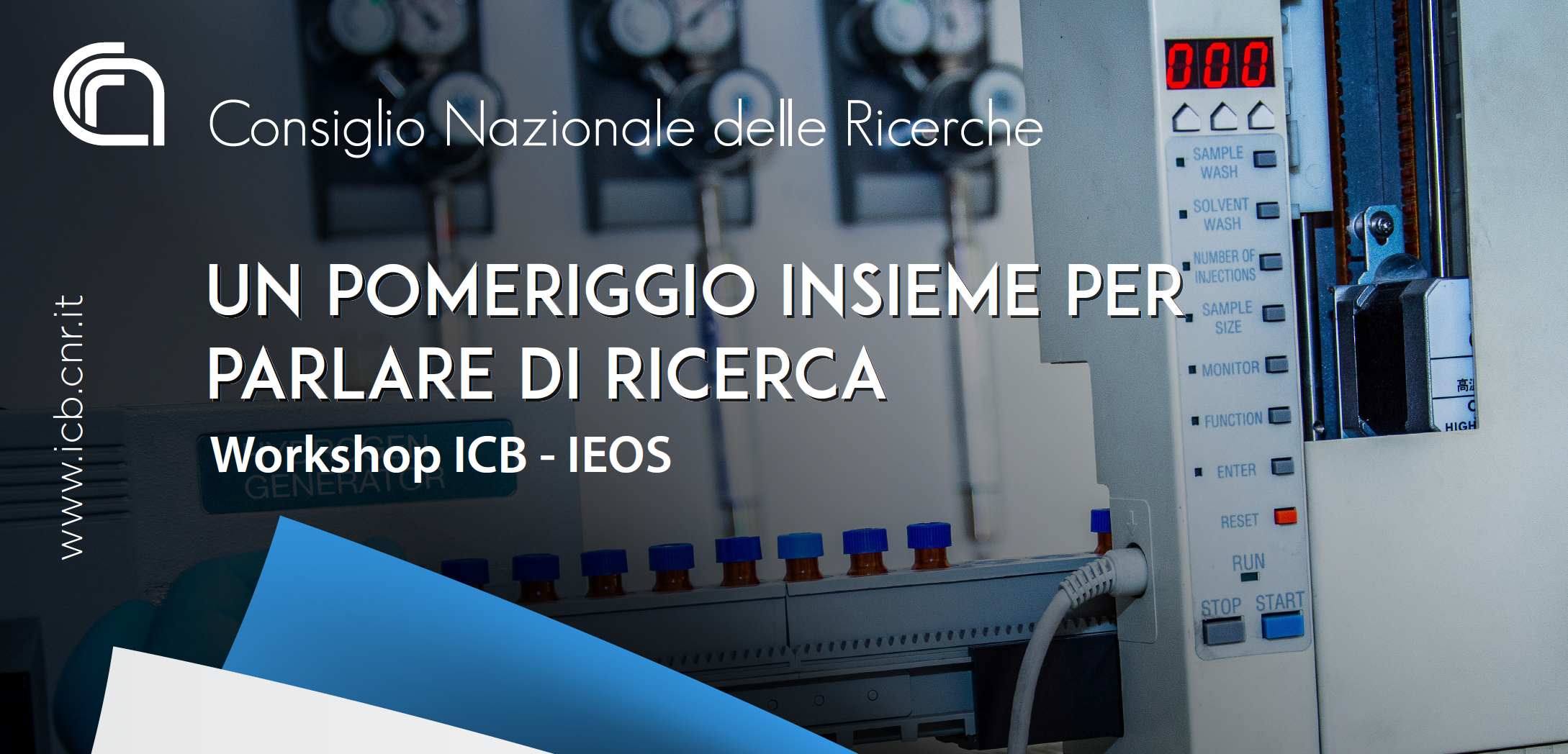 Workshop ICB – IEOS
Lunedì 5 Dicembre dalle ore 14.30 si terrà il primo workshop "Un pomeriggio insieme per parlare di ricerca" tra l'Istituto di Chimica Biomolecolare (ICB) e L'Istituto per l'Endocrinologia e l'Oncologia Sperimentale" Gaetano Salvatore" (IEOS). Il programma prevede discussione di temi di ricerca comuni introno ai seguenti interventi:
14.30 -15.00

Dr Alessia Varone (IEOS)
Physiology and pharmacology of the glycerophosphoinositols
15.00- 15.30

Drs. Giovanni Gambera and Genoveffa Nuzzo (ICB)
Synthesis of Analogues and Derivatives of Glycerophosphoinositol (GroPIns) and LC-MS analysis of GPI in cells and tissues by LCMS
15.30 – 16.00 Dr. Emiliano Manzo (ICB)
Chemical preparation of glycolipid-based immunomodulatory molecules
16.00 – 16.30 Drs Matteo Lomonte and Alberto Luini (IEOS
New fluorescent probes for super-resolution and FRET (protein-protein interaction) microscopy
16.30 – 17.00 Dr Fabrizio Chiodo
Carbohydrates-Mediated Considerations in Designing Vaccines and Immune-Potentiators
17.00 – 17.30 Drs Aswath Balakrishnan and Pranoy Sahu (IEOS)
How the Golgi complex builds tumor-inducing glycans
L'incontro è previsto in presenza presso la Sala Conferenze dell'AdR1 del CNR in Via Pietro Castellino 111 (Na) ma sarà data la possibilità di collegamenti in streaming, il link sarà fornito successivamente.